Did You Catch It Yet?
by Shanan Campanaro
On the FSF Blog, I don't think a week goes by without an event with E the Custom Queen. Erica is a dope customizer and the owner of PINKEYE customizations.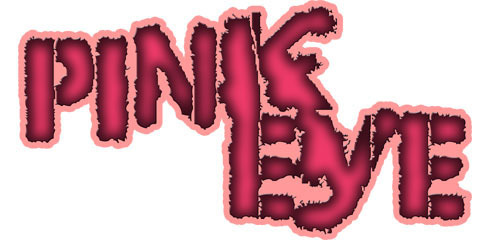 She also runs the official FSF myspace page. We caught up with her recently to see what she was up to...
Name, age, occupation, location, marital status, PLease!?
Erica Purnell aka E The Custom Queen, NYC, 25 yrs old, Visual Artist/Designer, Involved.
How did you first find out about FSF?
I did an internet search at the time I was doing The Adidas Adicolor Campaign in early 2006 for a site for women sneaker heads like myself, and "femalesneakerfiend.com" came up. I emailed some of my customs to Lori (the founder), and she was very responsive towards them. We kept up through emails and the relationship was built!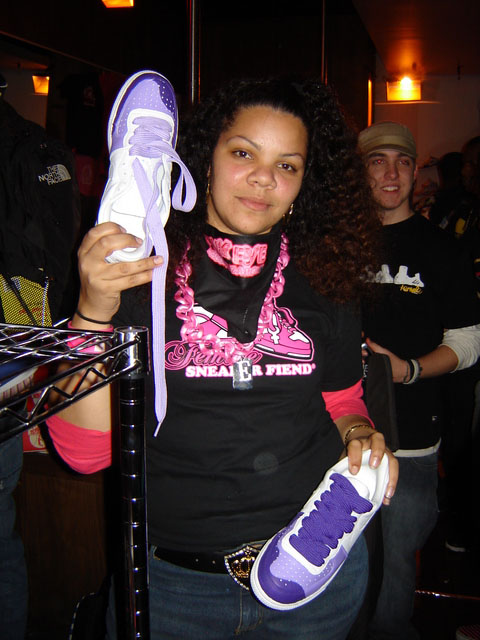 Erica reppin' FSF at our live customizing competition at Sneaker Pimps NYC 2006.

How long have you been obsessed with kicks?
I got serious with my obsession about 5th grade. I would see the kicks that older kids in the neighborhood had that I couldn't get and obsess over them, and when I could get the pair I wanted I would floss them out! lol
What's your all time favorite kick you own?
All white AF1...All time classic.
Whats your all time favorite sneaker you wish you owned?
Well I had these kelly/lime green suede pumas, that I was very careless with and spilled white interior paint on (yikes). I had to trash them...I've never been able to find them again.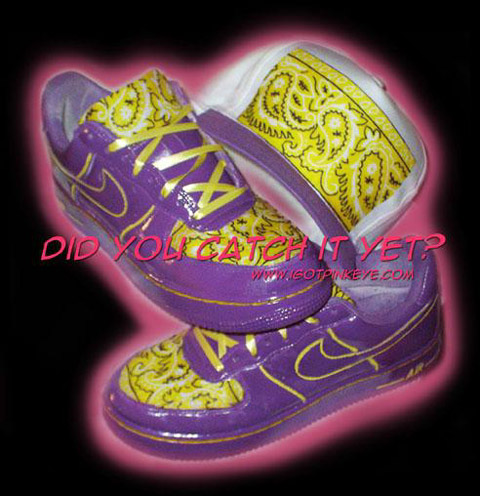 How many sneakers do you have in your collection at the moment?
I have to say, I'm not really a collector...I just love kicks and know my stuff... I've had many pairs since my teen years till now, some of which got ruined. I have about 25-30 pairs in my possession not including my custom ones. I rock my own customs.
Is it hard to find the sneakers you want where you live?
No,not at all... NYC is the sneaker capital.
What is your favorite local shop?
I go different places, I don't have "one shop". I make relationships with a few shops...but Mr. Joe's on 8th Ave in Manhattan is one of them. But a lot of times you find "sneaker gold" in the places you wouldn't expect...I'm kinda frugal at times especially since kicks are a habit for me!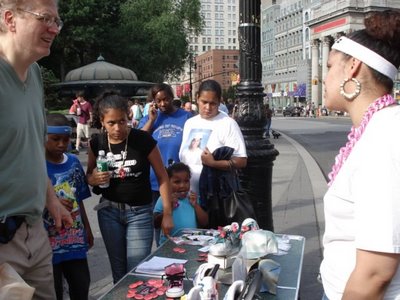 When did you decide to start customizing?
4 years ago (2003) I started Pink Eye. The response started from me hooking up my own kicks, doing weird color ways (The ones NIKE is doing now lol) Tagging my name etc...People would say "Where did you get those?" After getting asked a few times The lightbulb went off to start taking orders and its been rocking ever since.
what is the most popular motif you get asked to do as customs?
I don't....absolutely don't repeat designs! It's my pet peeve as a customizer. I refuse, even if the money is behind it. It happens a lot though, people see my shoes and they're like I want those...and I tell them well you can't have them...lol, but we can do something similar... Once I break it down to them why...they are cool with it. People are paying nice money for my designs, and I want them to know that no one else will have their sneakers.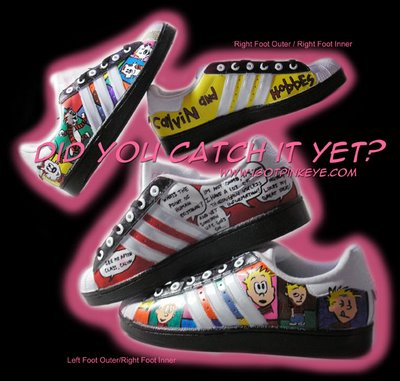 What is the custom you are most proud of?
Man...so many.. I would have to say my "Calvin and Hobbes Adidas" They took a lil time and the end result was phenomenal...They have been featured on many websites and the crowd definitely double takes when they see them.
What other customizing artists do you admire?
Fetti D'Biasi, Un (Uncutt Ink), Che (Rebellion Customs) just to name a few...
You run the FSF official myspace page, what other ways are you directly involved with FSF?
I'm also a NYC representative. I network FSF at all my shows. I carry flyers on me most of the time and hand them out to girls (wearing hot kicks of course) on the subway.

Who do you admire most living or dead?
Russell Simmons. Love the die hard hustle within him from the street to the boardroom. And my grandfather Olen Purnell (who passed away when I was 12). He showed me the courage and fight to have to make it in this world.
What music have you been feeling lately?
There's a lot of garbage out now, But I lend my ear to all music, Heavy Drum & Bass / String instrumentals get me cause I love to knock and break my neck. Its good concentration music, and some of it gets me hyped! Nevales is an up and coming musician/producer you guys should listen for.
Whats the most important thing you want your readers to know about you?
While I love kicks and customizing them...respect me as an ARTIST. I don't customize kicks just for the dough, I put a piece of my artistic being in each of them. Art is deep rooted, and you can't fake talent!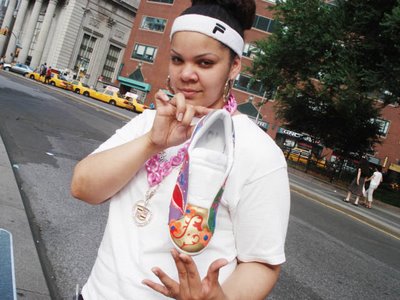 What's your favorite food?
Baked Mac And Cheese.
What's the most important thing you want everyone to know about FSF?
GET INVOLVED! THE LADIES ARE REPPIN AND WE DOIN' IT RIGHT!
Anything else you want to say??
DID YOU CATCH IT YET? www.igotpinkeye.com