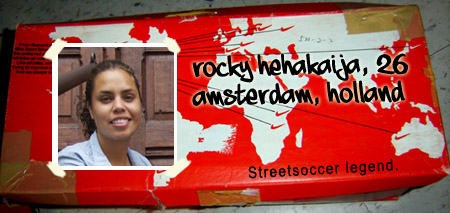 When I got to the Netherlands for our Girls Got Kicks photoshoot (at Street Science), I kept hearing about this girl Rocky "who you HAVE to meet". Rumor had it she was a mean streetsoccer player with a sick collection, not to mention a handful of quite popular Nike and other footwear ads to her credit. We never did get to meet up, but I couldn't let some travel mishaps get in the way of finding out more about the only female Streetlegend...
What started your love for sneakers and how has it grown?
Ever since I can remember, I'm wearing sneakers. At the beginning I didn't care what kind of sneakers I was wearing, as long as they were Nike and they were comfortable. When I turned 12 years old I went to high school and everybody was wearing them fly Air Maxes. That was when I first saw them and I got obsessed. I desperately wanted the Nike Air Maxes. But they were expensive and my parents didn't wanted to buy them for me. I was disappointed but I understood, so I took a job as a paper girl and saved money for my first pair of Air Maxes. When I bought my first pair I was so happy that the sneakers slept right next to me on my bed. I was hooked!
My first Nike Air Max 1…I remember when I bought them; I was walking down the streets and they were so fresh, so I was walking like I was walking on egg shells. No one was coming near my brand new Air Maxes! I protected them with my life. After that I started collecting all of the pairs I had on my wish list. First of all the Air Max 1's, Viotechs, Safaris, Urawas…the Jordan 5 Grapes and so on and so on.
"Junk in My Trunk"
I love sneakers, and I was obsessed by collecting them. But I must say, I'm happy that I'm not addicted anymore. It was an obsession, I bought about 6 to 8 pairs a month. It got out of control. The urge to buy sneakers, the need to spend hours on E-bay--I'm happy I don't have that anymore. I want to spend my money on traveling and meaningful experiences. I've travelled the world playing soccer, not everybody can say that. I will always love sneakers and I will always wear them, but I won't let the materialism get the overhand.
You're a well-respected streetsoccer player, and the only girl on the world-beating Streetlegends. What's it like being the solo girl in the match?
It's awesome to be the only female Streetlegend. I've worked hard for it, and my first and foremost passion is soccer! I woke up with soccer and went to bed with soccer; my soccer ball literally slept with me on my bed. In the Netherlands soccer is the number one sport, and since 2003 streetsoccer has become more popular. First Nike came with the commercials, and then the tournaments and battles became bigger. You can compare it with AND1 [streetball] in the States. We try to crush our opponents in a battle with sick tricks.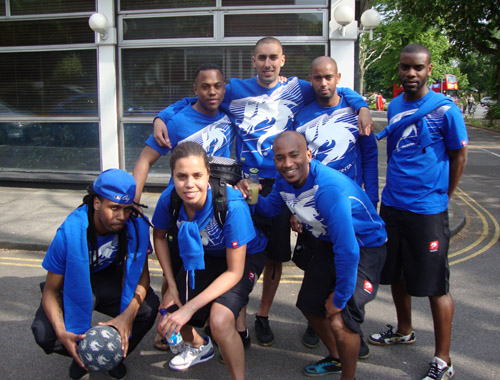 Rocky and her fellow Streetlegends
I've always had to work hard, because soccer is a boys' game over here in Europe. I had to show the boys that I can play with them. It's similar to being a girl in the sneaker game. Boys can get intimidated by a girl who owns more sneakers then they do, especially when they own some serious heat. It's the same as a girl who knows how the handle a soccer ball.
Rocky showing how to handle a soccer ball!
Have you ever jumped into an irresistible street game wearing some fresh new kicks?
One time I was walking down the streets and a group of guys were playing soccer, and they challenged me. 'Hey you're the girl who plays ball. Show me, I don't believe it.' So I had to step to the plate, and I did. I killed them, but I also killed my kicks! It was worth it though. I love to shut boys up like that!
Another time I was in Kenya and Ghana for the Streetlegends Tour, and we'd lost our luggage during our flight from Senegal to Kenya. So we only had one pair on—I had my Jordan III True Blues on!—but we had to do battles. So I had no choice, rock 'em and play!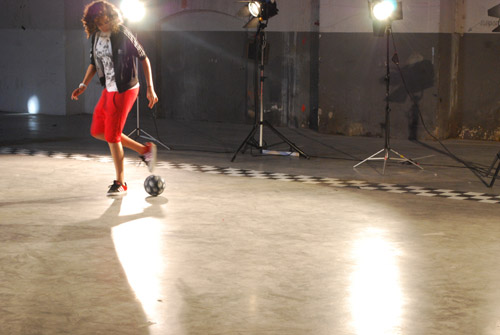 And when I do commercial shoots or films I want to look my best, so I'll put on my fresh kicks. But I also have to kick the ball during the shoot. I busted my Nike Air Max 1 for a commercial shoot and a pair of Asics Gel Lyte III Colette for another commercial shoot.
How do you recognize another female sneaker fiend?
I only have to look down to recognize a sneaker fiend. You can tell by the way she wears her kicks, how she laces them, and how she rocks them with her complete outfit. It's a the girly sneaker fiend swagger ;)!